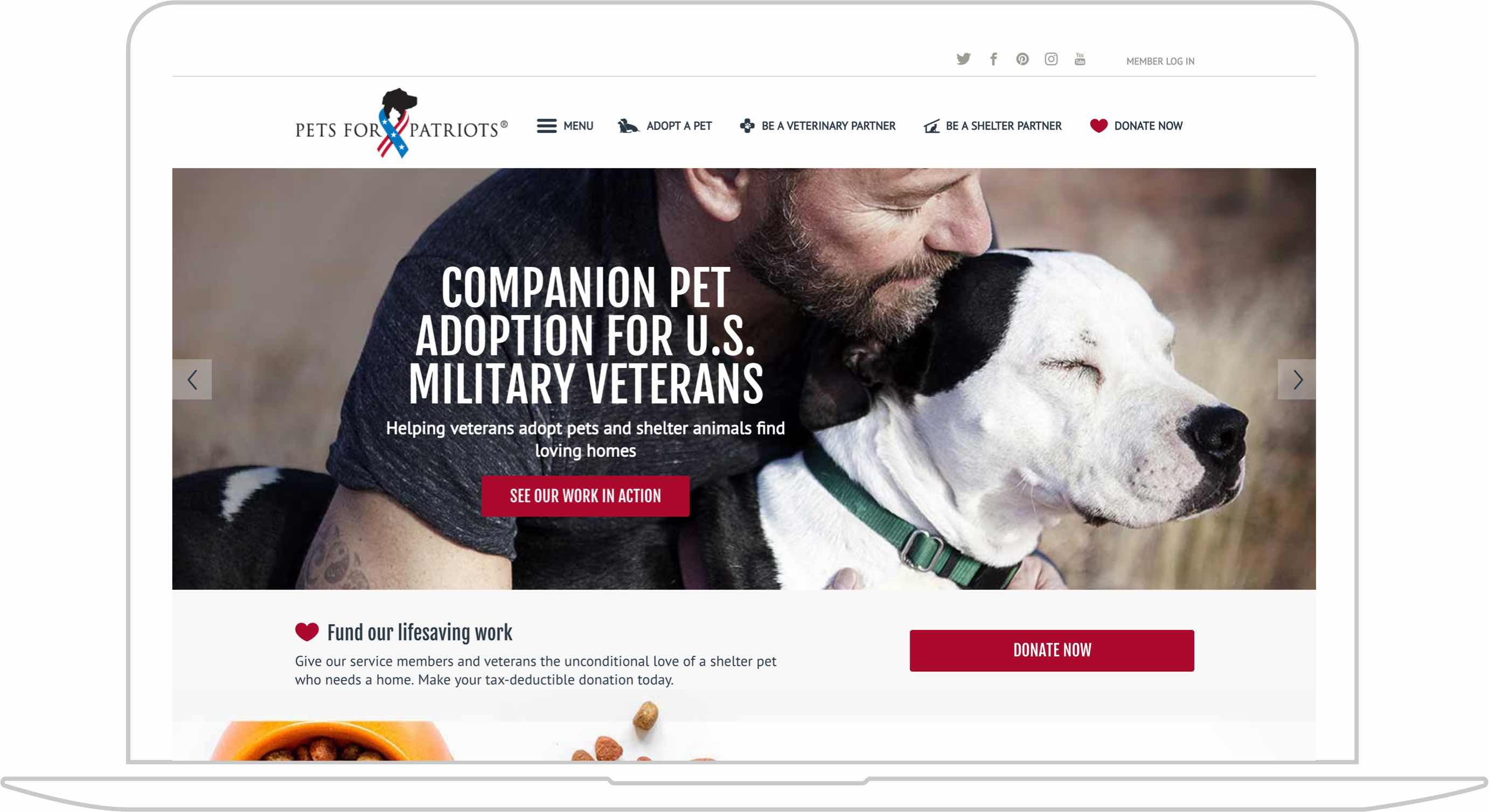 USER INTERFACE & USER EXPERIENCE DESIGN // DEVELOPMENT
Pets for Patriots is a national 501(c)3 nonprofit organization that helps connect veterans and military service members with shelter dogs and cats, helping to subsidize the cost of pet ownership to help improve the quality of life for both veterans in need and shelter animals that may not make it out.
OBJECTIVE.
The organization had experienced explosive growth and their existing website couldn't handle the new volume of visitors searching for veterans in need and animal rescues in their area.
OBSTACLE.
The website project would need a completely new look and feel, as well as new customized integration into the organization's Salesforce CRM and onto various third-party platforms such as WordPress.
Outcome.
PLUSONE worked closely with the organization's founder to create a brand new look and feel that would feel loyal to the original mission and intent, while modernizing the image for new volunteers and visitors. Integrations were customized for all various needed tools, like SFDC, WordPress, and a Google Mapping API.
Word had gotten out about Pets for Patriots and an overwhelming amount of new support had recently flooded the website, making it difficult for new visitors to navigate the site well. In addition, the new growth warranted new technology solutions for their business, and cumbersome changes would have to be made.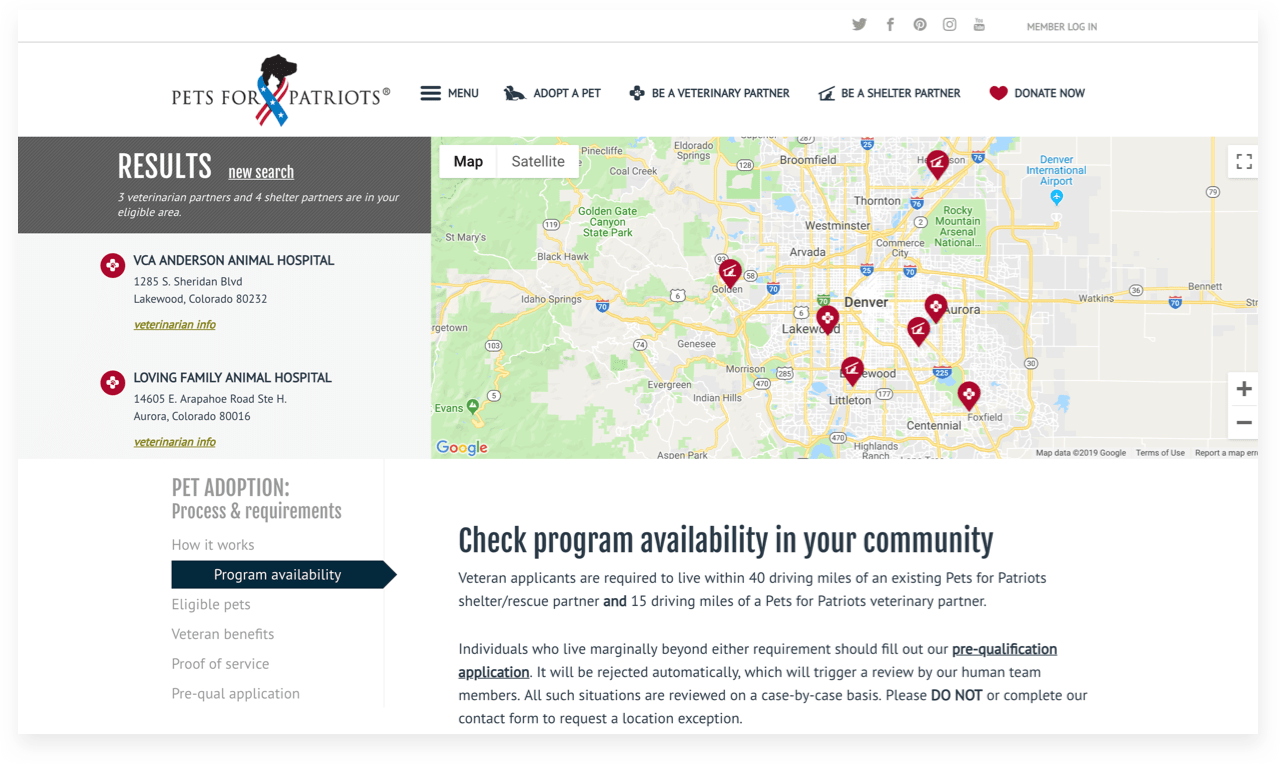 The new website would need to stay true to its roots and its former image while also feeling updated and modern enough to hold new visitors' interest and help them navigate the site easily and quickly. Customized integrations with SFDC and WordPress gave the site admins greater autonomy and ease of use when it came to site management and CRM outreach capabilities.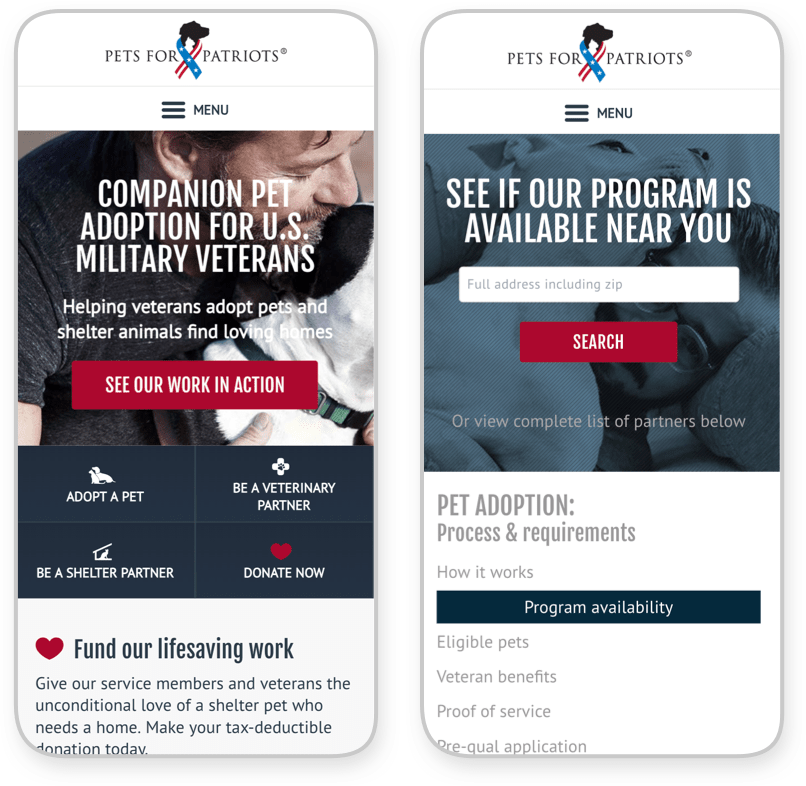 Not only did the new look and feel stay true to the mission of the organization, the detailed customization work meant that the client had more control over their own web properties, and the site visitors had a clean and concise user experience, even able to search for rescues and veteran organizations in their area, with the help of a Google Mapping API integration. Greater connectivity to the organization's CRM meant higher quality outreach with their new visitors.