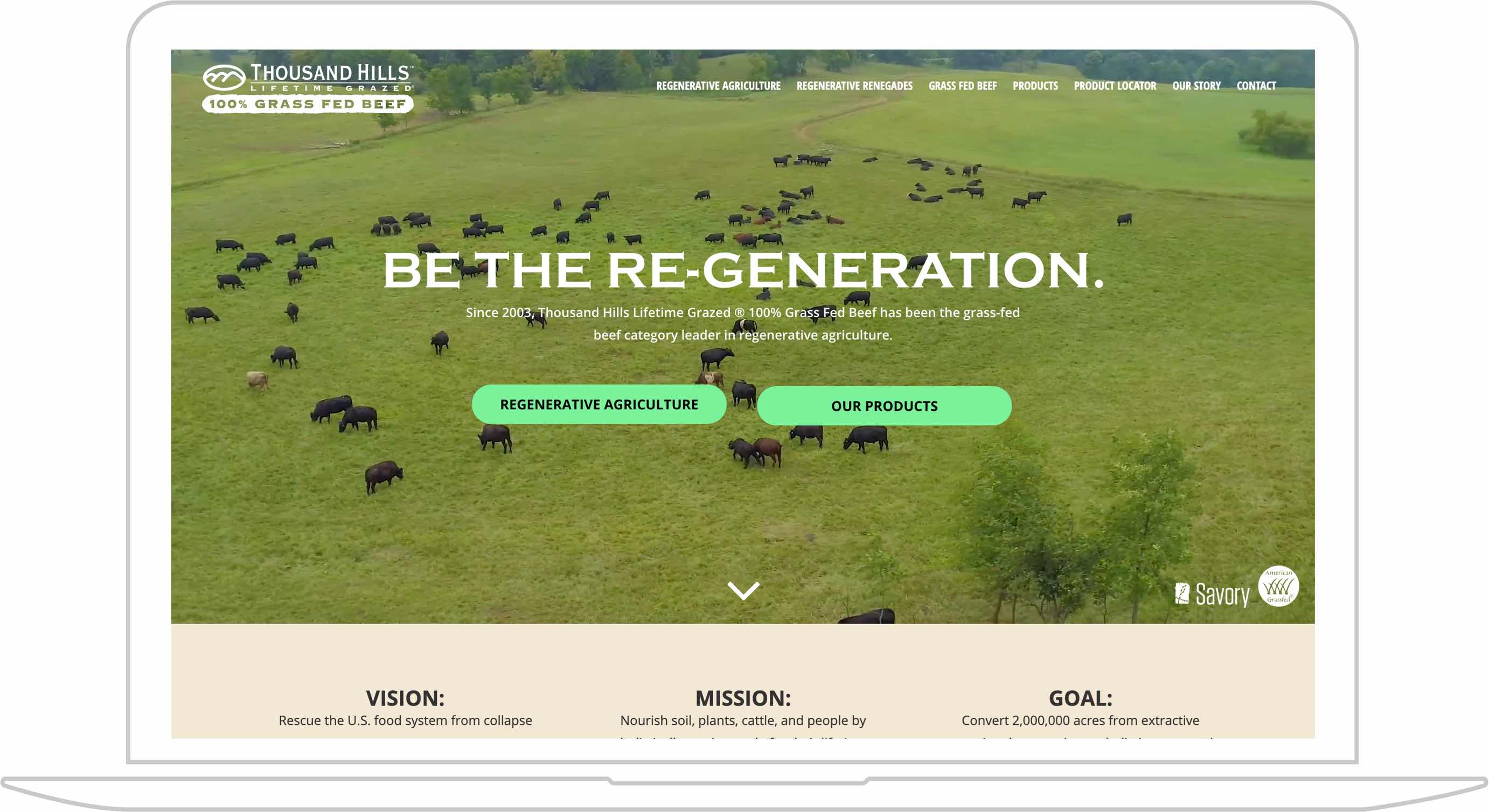 USER INTERFACE & USER EXPERIENCE DESIGN // DEVELOPMENT
Thousand Hills Lifetime Grazed is a company that produces 100% grass-fed beef. They are at the forefront of regenerative agriculture education and provide information for consumers, ranchers, and retail partners on the benefits of grass-fed beef, as well as the locations in which it can be purchased.
OBJECTIVE.
In an effort to expand a movement around regenerative agriculture and benefits of 100% grass-fed beef, Thousand Hills knew their current website was not as effective as it needed to be to keep people reading. It was time for a new site.
OBSTACLE.
The myriad vendors and products that Thousand Hills promotes and provides needed to be highly searchable and easy to find. Additionally, the site needed more streamlined navigation to provide the right information for the right audience, whether that was consumers, retail providers, or ranchers.
Outcome.
PLUSONE created a brand new website with heavily increased functionality and search capabilities that were easy to find and use. They reduced the amount of unnecessary copy to focus on getting the most important information in the hands of the corresponding audience.
Growing a movement that centers around quality food education is challenging. It requires not only company credibility, but also easy accessibility to information and products to keep the movement running. Thousand Hills knew their website was dated and copy-heavy, decreasing overall effectiveness for their brand and message.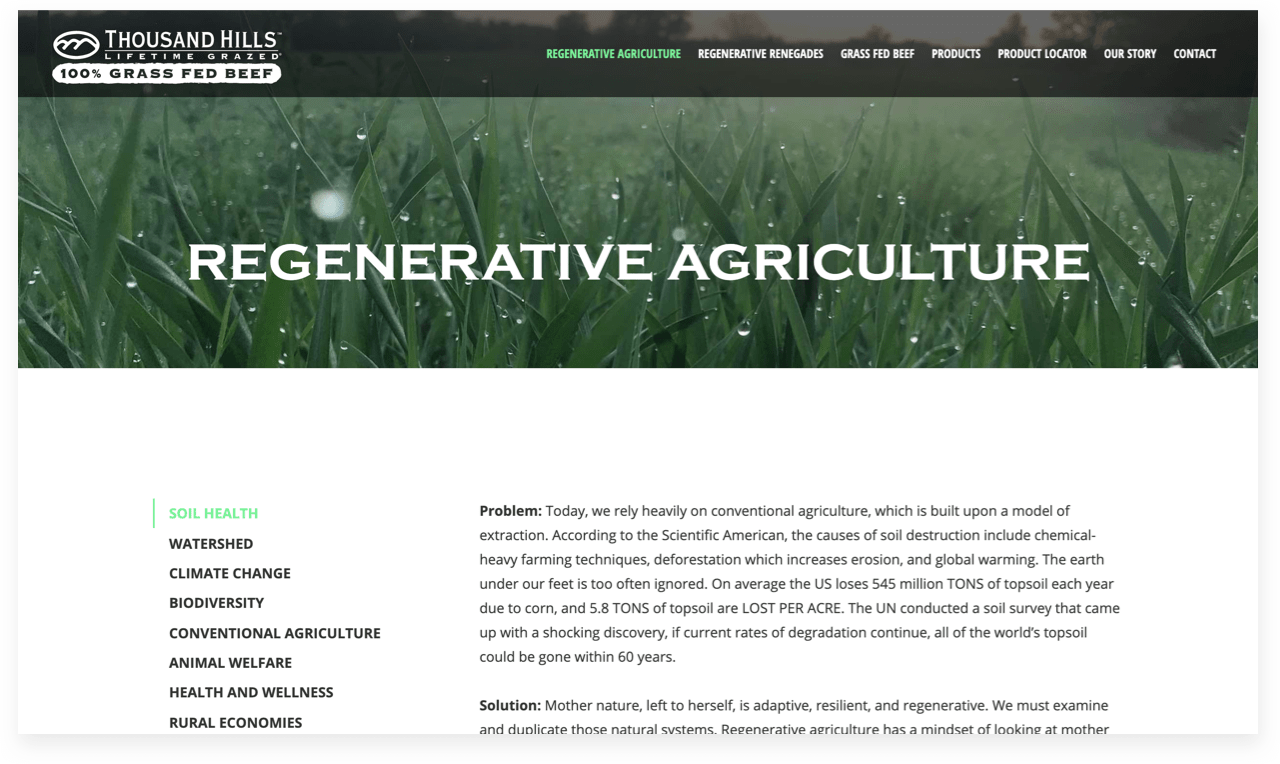 While Thousand Hills is its own provider of grass-fed beef, they didn't want to limit their mission to selling products. The message of regenerative agriculture was critical to their cause, and they wanted to augment product sales with educational information for consumers and retailers, as well as the ability to quickly and easily find regenerative products in their audience's area.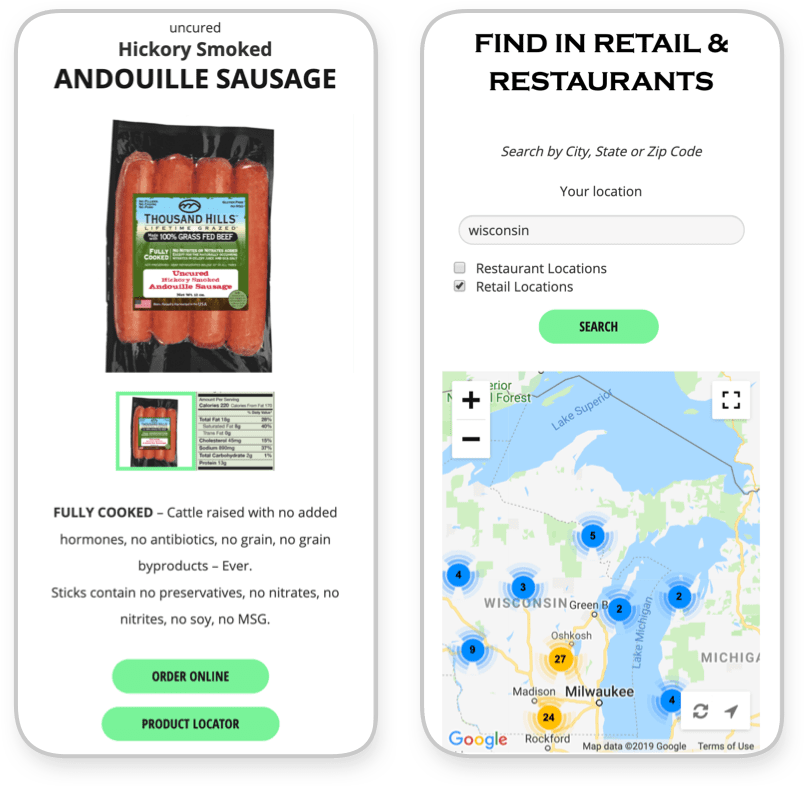 PLUSONE worked closely with Thousand Hills to absorb their mission statement and build a site from the ground up, centering around cleaner and more concise messaging and education. Now, consumers and retailers could not only purchase products directly but find ranchers and vendors that aligned with the regenerative mission. The website also provided necessary information and communication channels for ranchers who wanted to partner with Thousand Hills in this expanding and critical movement inside the agriculture industry.