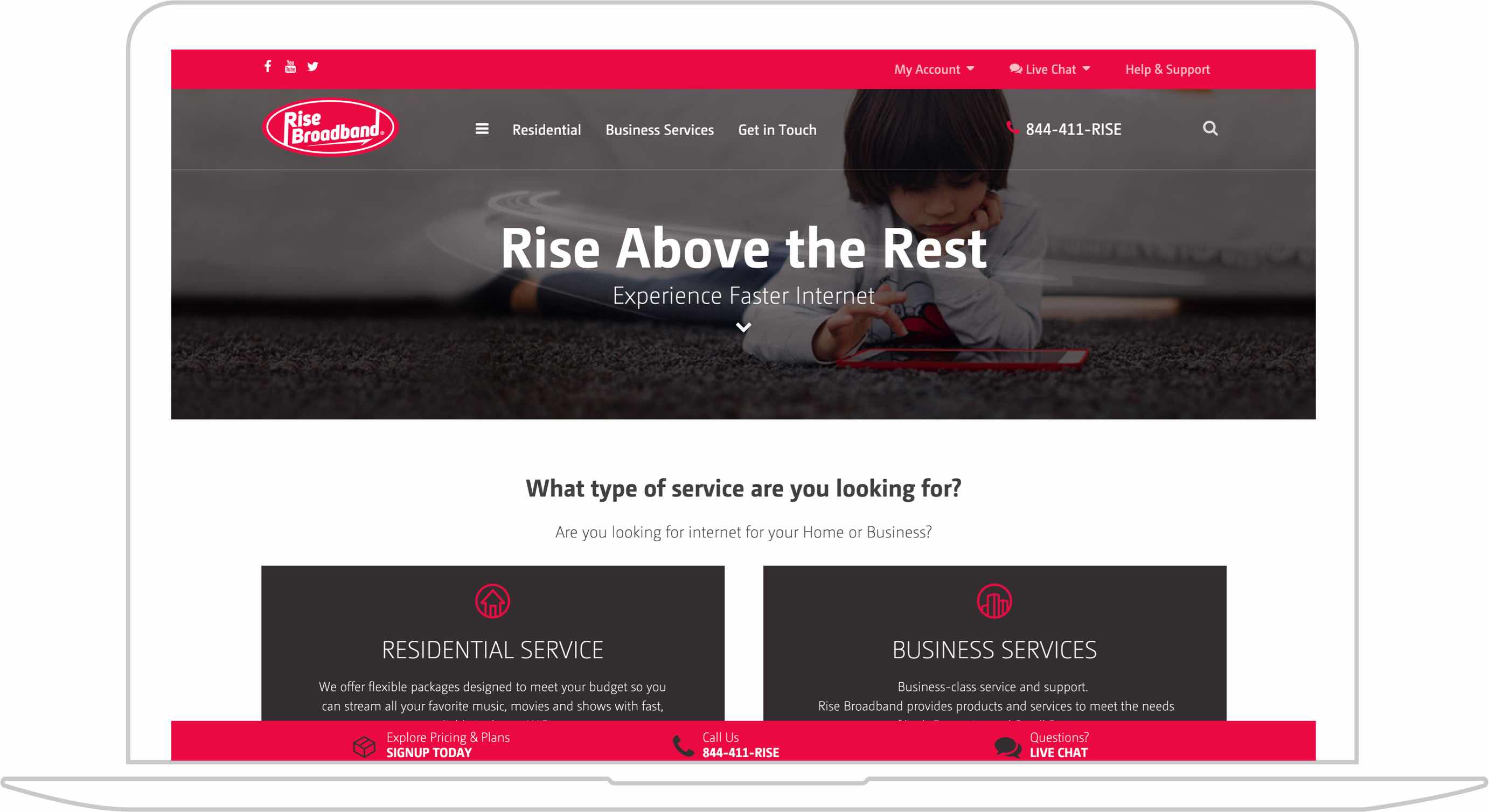 USER INTERFACE & USER EXPERIENCE DESIGN // DEVELOPMENT
Rise Broadband is a rural Internet Service Provider (ISP) that offers tower-based wireless Internet service to underserved and unserved communities in 16 states nationwide.
OBJECTIVE.
Rise Broadband was revamping their entire brand, down to the nuts and bolts of the new ways their customers—both SMB and residential—wanted to do business. A new website would be integral to this process, with the end goal providing e-commerce functionality.
OBSTACLE.
With proprietary CRMs, hosting, and address validation in place, the website build, and particularly the transition to e-commerce capabilities, would be a complex one.
Outcome.
A new and simplified customer journey was implemented, one that tracked with their refreshed brand design. The website was migrated for greater backend accessibility and increased customizable functionality, bringing the website into a modern-day "shopping cart" world.
In a rapidly changing digital world, it can be difficult for large companies to quickly alter course to match new customer demands. One of those increasingly popular demands is to be able to shop and purchase from the comfort of one's computer, and not with a sales call. Rise Broadband saw this change happening and knew they needed to adjust to their customers' preferences—not the other way around.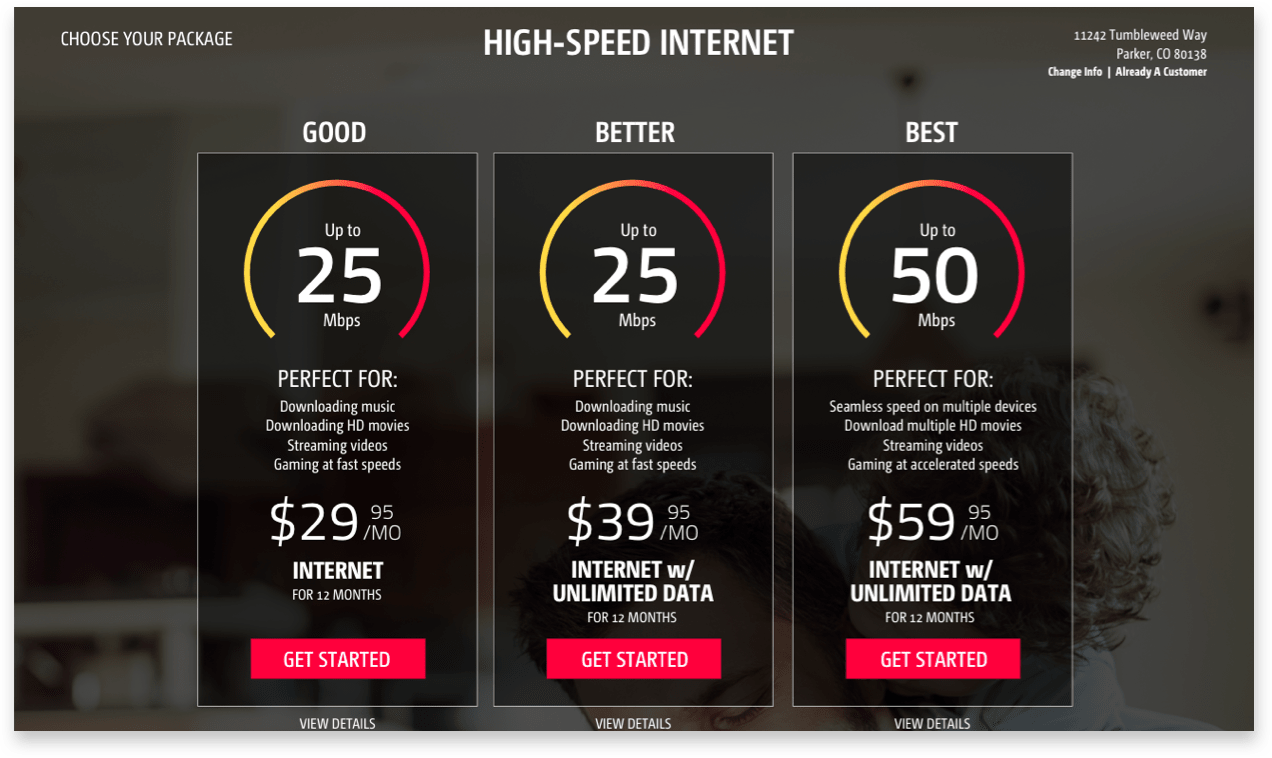 The company had just undergone various brand changes and would need the new website to be consistent with those guidelines, while also laying out the customer journey in a more streamlined and less complex fashion. Potential customers needed fewer and less cumbersome steps between brand awareness and conversion.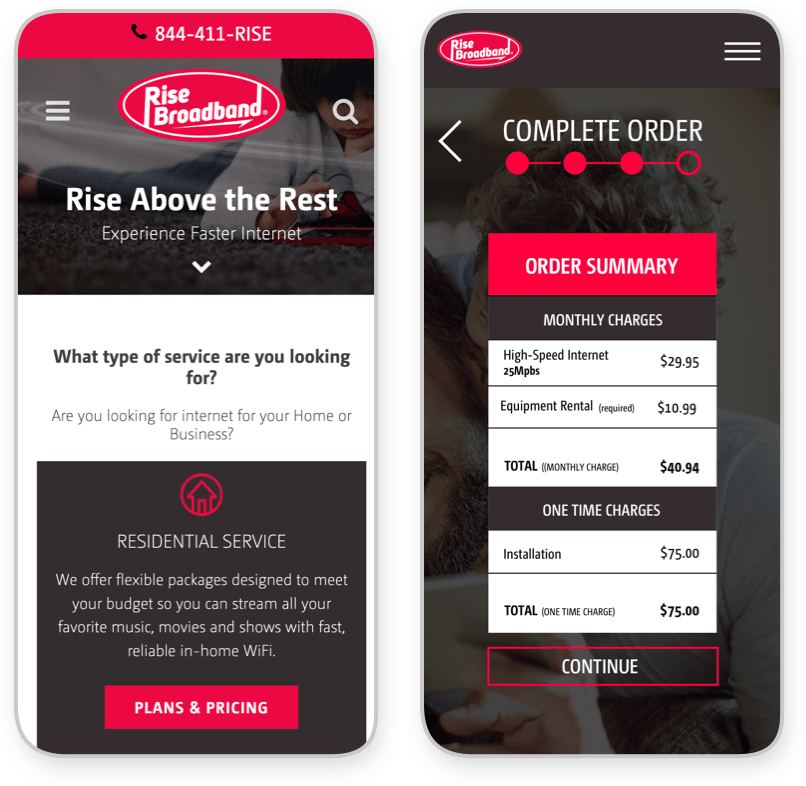 Working both inside and outside of several proprietary Rise Broadband systems in place, PLUSONE designed and developed a clearer customer journey, one that would eliminate steps in the buying process, making it easier and faster to become a customer. Additionally, the Rise site was migrated to WordPress, allowing for greater functionality and scalability when they needed it most. Finally, the new website was upgraded to a full e-commerce suite, with the goal in mind of increased new customer volume, with plans customized to their needs, at a faster pace.